Customer Service Training | Telesales Training |
Email Training | Chat Training | Coaching Training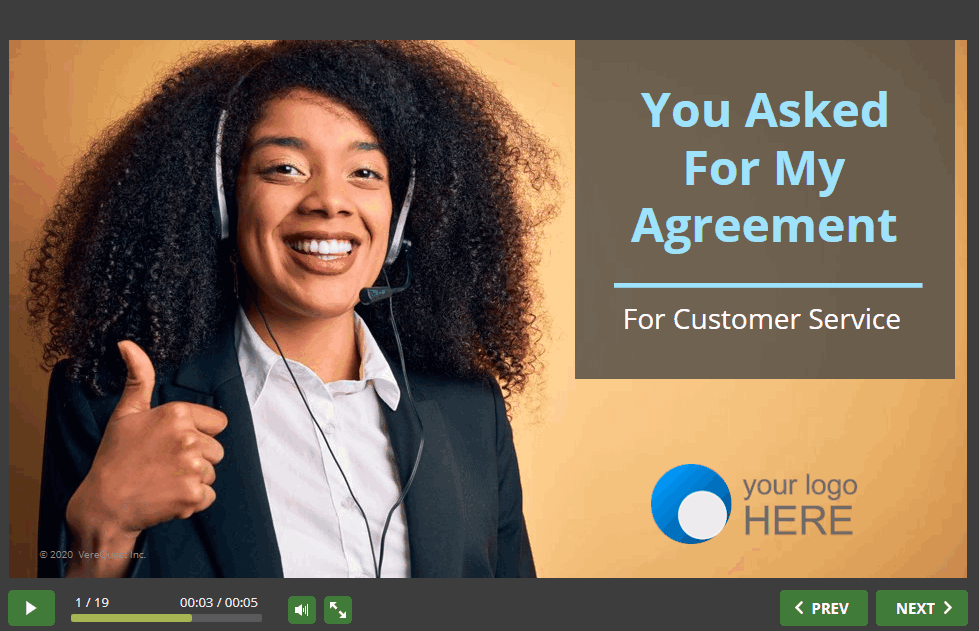 When generic training just won't cut it, our sales and customer service soft skills training can be adapted to your unique environment for a fraction of the cost of custom development -- and in a fraction of the time.
All skill models are based on best practices gleaned from listening to and reading millions of customer interactions across a variety of industries (see Call Center QA). Recently updated to address today's changing customer environment, these 5-30 minute modules empower frontline staff with the skills needed to support even the most challenging customers.
​
Available in SCORM-compliant e-learning, video, classroom and/or webinar formats.
All e-learning is hosted on your LMS to ensure continuity and to avoid individual learner fees. No ongoing licensing fees.
ONLINE TRAINING DESIGN
Off-the-shelf customization.
We begin by identifying the specific skills your agents need to deliver on your brand promise.

Leveraging content from our library of customer-centric skills modules, training is customized for your unique environment:

Your logo

Real-life examples and images from your company and industry

Fully customized testing using your scenarios and language.

Your customized call center training course is provided to you in a SCORM-compliant format (or video).

Licenses:

Allow for an unlimited number of learners

Are available for a one-time flat fee

Are hosted on your own Learning Management System (or ours)
Customizable Call Center Training
"When I first started my career in Travel, I knew it would be challenging to learn a new industry and meet the KPIs set by the business at the same time. As a learning professional, it is imperative for me to deliver a quality product that not only drives results but is sustainable over time.

The fundamentals taught in the VereQuest Check-Up Program for our contact center became a part of our everyday language and allowed our leadership to coach in a focused way. Not only did the training vastly improve our customer experience, our call quality and sales results were also greatly improved. VereQuest delivered a stellar product that has stood the test of time and I would highly recommend them to anyone! "
​
~ Christyl Abraham, Learning and Development Manager
CLASSROOM/WEBINAR FORMAT
Onboard with confidence.
Customer Service Training | Telesales Training |
Custom Development
With more at-home agents than ever before, traditional onboarding can be challenging. If e-learning isn't right for the moment, consider classroom and/or webinar delivery.

VereQuest's Call Center training can be configured as leader-led classroom/webinar instruction and augmented with fully customized product, systems, compliance, etc. learning.

Includes Leaders Notes and PowerPoint slides.

All modules may also be made available in e-learning format when larger-group training is not possible.

We'll deliver the course for you or can Train-your-Trainers.
COACHING FOR CALL CENTER MANAGEMENT
Coaching Check-Up™
Specifically designed for brand new or tenured frontline managers, supervisors and team leads.

Learners prepare for a real coaching session as they progress through the course which includes 9 e-learning modules, each 5-15 minutes in duration plus a detailed Workbook.

This course also includes two 30-minute sessions with a senior, certified Coach for support, roleplay, or discussion.

Supports the practical application of coaching in a busy, dynamic contact center environment.

(Optional) Roleplay coaching sessions with actors to ensure competence and support a safe practice environment.
You choose the soft skills modules from our library that align with your environment.

We adapt each one to your unique environment which always includes re-enacted actual customer calls.

Host e-learning on your own LMS for continuity or choose a classroom/webinar format.

Pay a single, one-time fee.

Greatly reduces development time and costs.

Unlimited learners, perpetual license.
Get in touch to gain access to our Call Center training modules for review.
Other VereQuest Products + Services
VQ Online is included in all Outsourced QA arrangements. However, if you want to do your own QA in-house, leverage this platform for managing quality monitoring efforts across call, email and chat channels.
Understand the customer's experience with your company and in the impact it has on your contact center resources. Identify high priorities areas to reduce effort and build customer loyalty.
Leverage expert VQ resources to conduct quality monitoring so your internal resources can focus on coaching and serving customers. And it comes with VQ Online!
Need to understand where your greatest opportunities are to improve performance, reduce cost or increase sales? Need support managing change? can help.